Team
ABC Auto Care is pleased to introduce the team responsible for making ours the best auto repair shop in Ventura. Our company is dedicated to ensuring customers leave satisfied and knowing our technicians completed their automobile repair or service correctly. ABC Auto Care strives to hire only the best auto mechanics in Ventura. Our technicians are professionally trained, ASE Certified, and attend various training seminars and classes to keep up with constantly changing automotive technologies. Click on any team member listed below to learn more about the wonderful staff working at ABC Auto Care in Ventura California Please feel free to
request a price quote
or
schedule an appointment
at any time using our online forms.
Lee Lizarraga

Lisa Lizarraga

Austin Simpson

Jake Smith

Hugo Lira

Isaac Nuno

Isaiah Thomas

Anders Christensen

Samantha Lizarraga

Andrew Lopez

Angel Castillo

Eliazar Castellanos

Gilbert Nuno

Rafael Laureano
Lee Lizarraga
Owner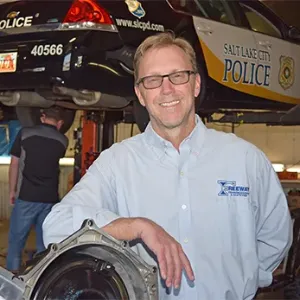 I came to the trade from the drivability and diagnostics side of automotive. I was lucky I started at a time when cars were in transition from an analog to a digital world. As a consequence, I can understand both the old the new technology. As an owner operator, I oversee that all repairs are heading in the right direction (repair consultant) and in the office, I make sure all t's are crossed and all i's are dotted and handle most of the road test after repairs to verify proper results! My goal is to become the "best auto repair shop" in Ventura, so when you reach out for "mechanic near me" we'd be your first choice.
Lisa Lizarraga
Owner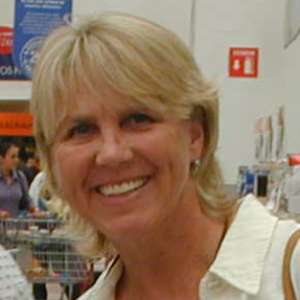 Lisa is a graduate of California Lutheran College with a major in biology. She currently does all the background work for the shop. Items such as bill paying and reconciliation, parts and tracking. Bookkeeping and some of the accounting. She is the one who makes sure all the bills get paid in a timely manner. We could not function without her (at least not in the long term)
Austin Simpson
Technician
Austin came to us through an employment agency. We are happy to say we couldn't wait for the six month trial period to end. After it, we offered him full time employment and he is a perfect fit for ABC Auto Care and for Christensen Performance. We believe he is a superstar in automotive repair.
Jake Smith
Technician
Like all our other techs, I attend a lot of training classes. I Came along to ABC from one of the Ford dealers in the surrounding area and knows the product really well. He along with Mike have a long commute of over 45 miles. Jake is a snake expert and a well known breeder of exotic constrictors. He also does a great job of smoking and curing his own tri tip, ribs and sausages.
Hugo Lira
Department Manager
Hugo joined ABC in 2013 and have been the manager since. Having previously managed a car dealership allowed me to bring a great deal of experience to our operation.
Isaac Nuno
Service Adviser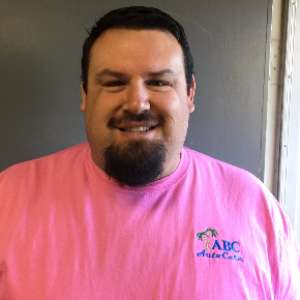 Joined ABC early in 2016 to help improve the work flow from the office to production. I put all the quotes together and forward them to management. I make sure production for auto repair runs well like a well oiled machine.
Isaiah Thomas
Technician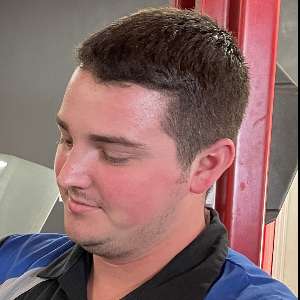 Isaiah interned with us sometime back before he took his training from UTI, the foremost college for aspiring auto mechanics and technicians. Once he was done with his formal automotive training, he didn't hesitate to comeback to us for a permanent position as an auto mechanic. He has been with since the start of 2019 and he has shown he invested his time in training very well. He performs general auto mechanic duties and continues to train with Anders Christensen as an European and German car specialist.
Anders Christensen
Service Adviser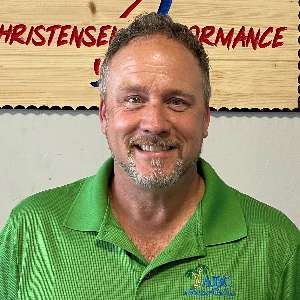 Anders was born in Denmark and came to the United States to follow his dream. While in Europe, he attended some of the most prestigious schools in automotive work and maintenance, primarily for BMW and all other German cars such as Porsche, Audi and Volkswagen. After having his own business, he decided best to join forces with us at ABC Auto Care to get help with the running and managing of Christensen Performance. Since then, Christensen Performance is not recognized as Ventura county's premier European car auto repair shop.
Samantha Lizarraga
Administrative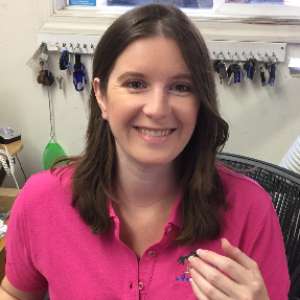 I manage payroll and HR part of the operation. My job is to insure the technicians and the shop are operating at their full capacity and get paid the right amount for their efforts.
Andrew Lopez
Technician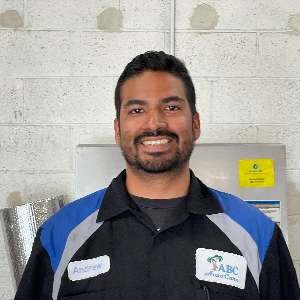 Andrew has the ability to work on cars as well as being the front man in the office. Having trained at some of the largest chains of automotive repair work. It gave him a unique perspective on how both sides of the automotive world work. Currently, he is our brake and front end man and does a good portion of the alignments.
Angel Castillo
Automotive technician
I've been in the trade for over 19 years working for some of the local repair shops and finally stepped up to work for ABC. I do auto repairs from an oil change to as complex as the most difficult diagnostics. Subaru Honda and Toyota are my specialties.
Eliazar Castellanos
Maintenance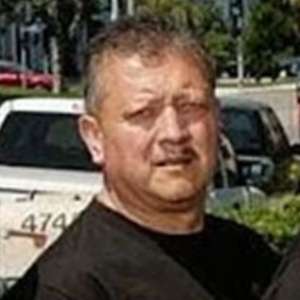 I'm responsible for assisting in all aspects of the repair process. From picking up and taking our clients home, to picking up the parts necessary for the job. I'm also responsible for quality assurance on the entire facility at ABC Auto Care.
Gilbert Nuno
Technician
Lots of experience from Gil, can do just about anything in the repair business. Lots of training as he came to us from Hyundai. Very eager to get things done and does so very efficiently. We are happy to have him on board.
Rafael Laureano
Shop Foreman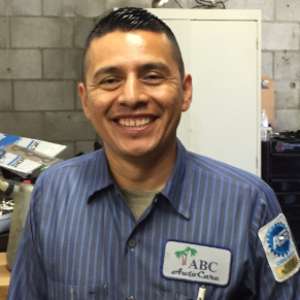 Rafael has made sure to attend every training class available to him thru our vendors (such as Delco, Denso, Bosch, MotorCraft, Mopar, Toyota, Nissan, Honda, VW, etc) He is extremely efficient in finding problems others would shy away from. In fact, some of the auto repair shops in the surrounding area will send us their nightmares, once they've spent a great deal of time with them and achieved no results. Lately, He's taken a lot of training on Diesel diagnostics as the amount of those vehicles has increased at our shop. Just finished a certification course on Subaru as well. When we acquired Christensen Performance, Rafa made sure he'd be up to task by attending classes for training on Audi, BMW, Porsche, Volkswagen, Volvo, Land Rover and Jaguar.
ABC Auto Care
4745 Market Street, Ventura, CA
Driving Directions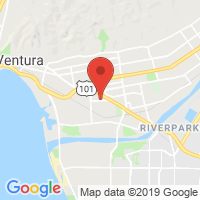 Weekdays:
7:30 AM to 5:30 PM
Closed Weekends
TESTIMONIALS
ABC Auto Care servicing Ventura and Oxnard
Don Baughn
Port Hueneme CA
Finally, I found ABC Auto Care and they seemed that they had no room to fit me in but they did anyway.
I highly recommend ABC Auto Care
Hugo and Isaac are the best - had an issue with brake lights and I showed up with no appointment on holiday weekend and they took great care of me at no charge.
I had a budget to work with and the Team at ABC Auto Care not only stayed within my budget, they saved me money.
Just got off of the phone with Lee at ABC Auto Care, he informed me that my Toyota Prius DID NOT NEED A TIMING BELT OR CHAIN....WHAT HONESTY!
Jeb McGinity
Santa Paula CA
Thank you ABC crew for making my car safe for my family to drive.
Stacy Anderson Moore
Oxnard CA
ABC is trustworthy, fun to work with, and understand the philosophy of good service.
ABC Auto Care is the best ...they fixed my a/c perfectly..runs nice cold air now..their service is always honest
Easily the best service I have ever received when it comes to diagnosis/repairs.
SPECIAL OFFERS
Free
Wheel Alignment Inspection
Get complimentary wheel alignment inspection when purchasing set of 4 new tires.
$15 Off
ROTELLA® Diesel Oil & Filter Change
Save on diesel oil change to include oil filter.
$14.99
TRICO® PRO Wiper Blades
Drive Clearly & Safely with TRICO&reg PRO Wiper Blades
$15 Off
Automotive Battery Offer
Save today on high-cranking performance automotive batteries.
$49.99*
Standard Oil Change
Complete vehicle oil change with new filter and up to 5 quarts of oil.
FREE
Free Battery Check
Don't Get Stranded by Dead Car Battery
$30 Per Axle Savings
Standard Auto Brake Service
Save $30 per axle on a standard service for vehicle braking system.
$19.99
A/C Performance Inspection
Stay cool Ventura with an automotive air conditioning check.